Collection:

"Stopping Time" Collection
The "Stopping Time" story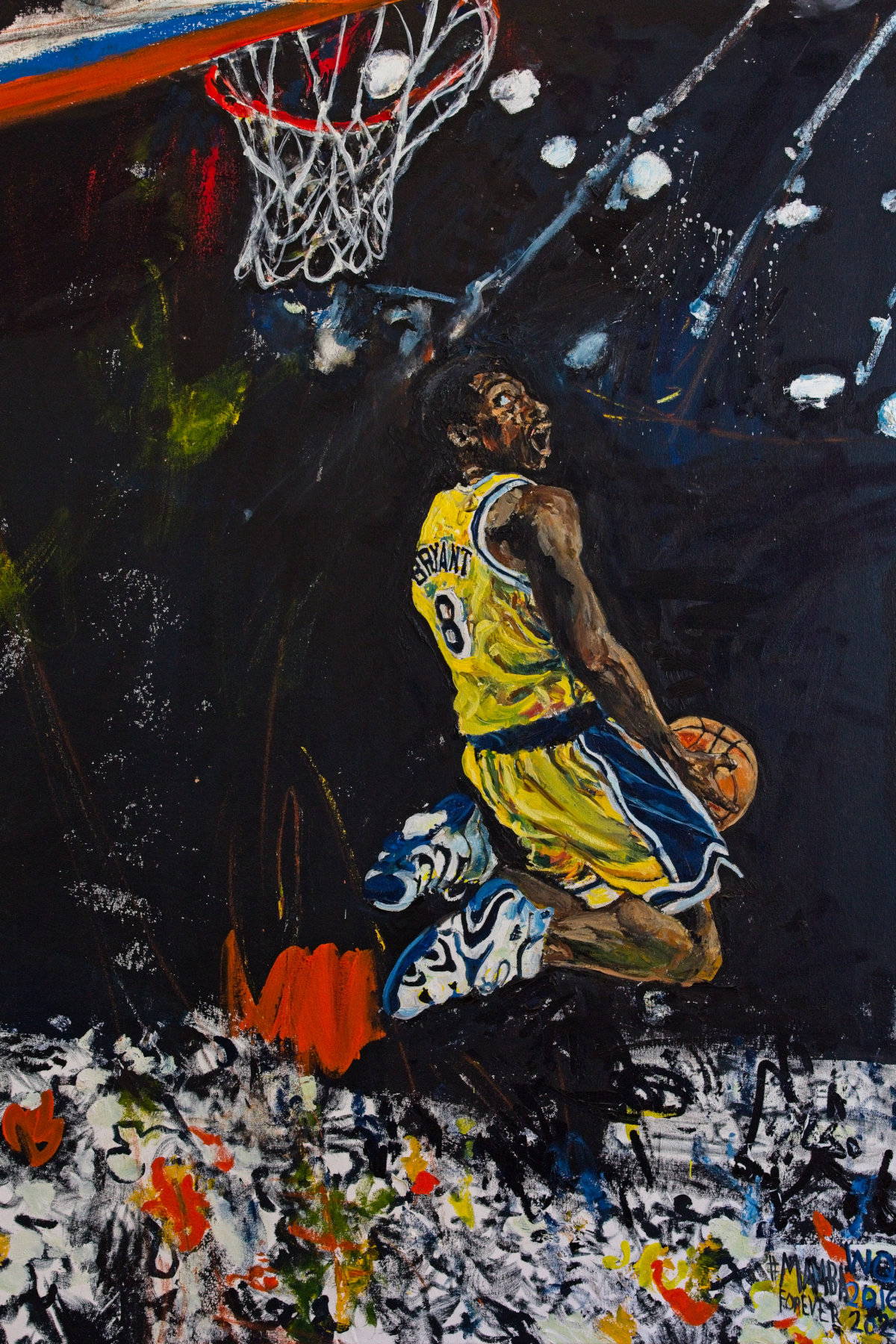 On April 13th, 2016, in the 1,346th game of Kobe Bryant's illustrious 20 year career, the 13th pick of the 1996 draft hit the winning shot with 31.6 seconds left. Bryant hadn't scored over 40 points all season. Taking an NBA record 50 shots, Bryant willed 60 points, adding to career total of 33,643 points in front of a frenzied sell out Staples Center crowd . The last place Lakers, and in classic Kobe style, knocked the Utah Jazz out of the 2016 playoffs in his grand finale on the stage of so many historic moments.
Bryant was born on August 23, 1978 in Philadelphia. He came into the NBA wearing No. 8, the sum of the digits on his jersey (143) at the Adidas ABCD camp for high school stars. After 10 years, Bryant wanted a fresh start, so he began wearing No. 24, the number he'd worn as a freshman at Lower Merion high school. He won 5 championships with the Los Angeles Lakers, never playing for another team.
Quigley met Bryant in 1996 outside his Downtown LA studio at the Brewery Art Complex through Shaquille Oneal on the set of an Adidas commercial. For 4 days they played pick up basketball with the crew, and joking around with other NBA players who came down for a visit. Bryant toured Quigley's studio, inquiring about the art and offering his contact info. In 1998 he created a special 7ft piece for Kobe that was stolen from the studio and yet to be located. Over the years the two stayed in touch. In 2018 Quigley started a 6ft tribute piece honoring Bryant's career intending to show it to him and the Lakers when done. Kobe never saw it completed.
The iconic painting was purchased in 2021 by one of Quigley's biggest supporters, renown fitness specialist Fabrice Gautier, owner of Beverly Hills LA Main Physical Therapy, training some the top athletes in the world. Hanging alongside a Quigley1992 Magic Johnson and 2015 boxer painting titled "Champion" the spirit of Kobe and the Mamba Mentality work ethic now proudly inspires athletes and people all over the world.
Skrapper has produced a 2023 special collection of limited collectible apparel and prints commemorating Kobe's family and legacy. A portion of sales will be donated to the 75th Annual East Hampton Artists and Writers Softball Game on August 19, 2023. The Game supports 4 charities Elenor Whitmore Childcare Center, The Retreat: fighting domestic abuse, Phoenix Rehabilitation House and East End Hospice.